Meeting Owl 3 - Distributor
The Meeting Owl 3 is a top-of-the-line 360-degree video conference camera that has everything you need for a successful meeting. It creates an immersive hybrid meeting experience by combining a 360° conference camera, a microphone, and a speaker that gets better over time. Simply pair it with your preferred video conferencing platform and take your meetings to the next level.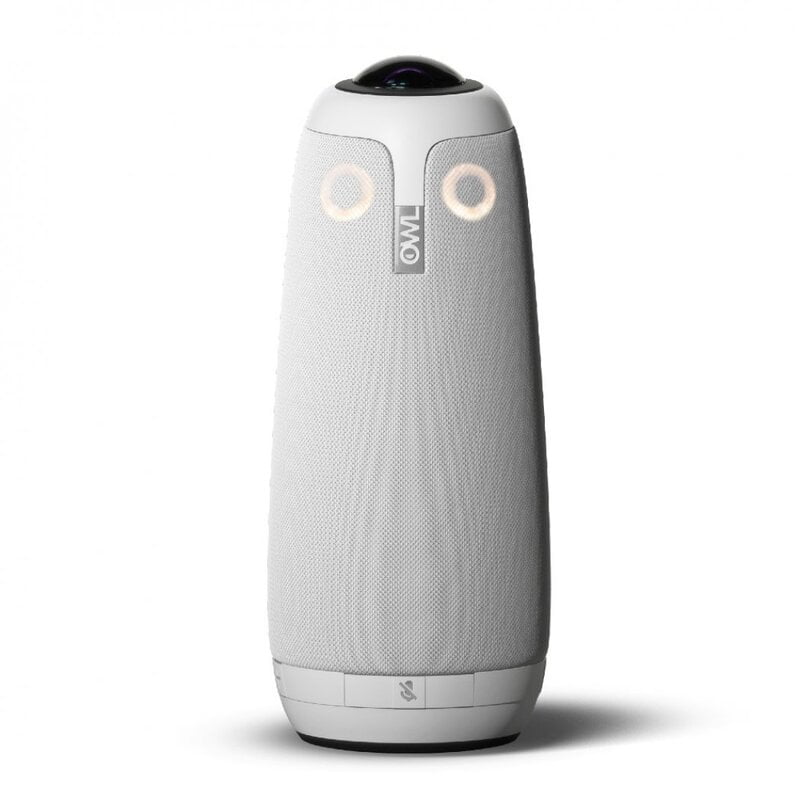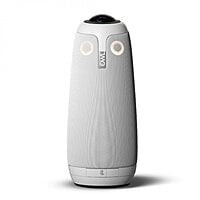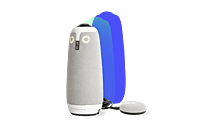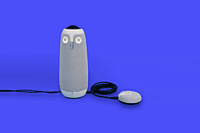 Product Details
Specifications and FAQs
The Meeting OWL 3 by Owl Labs, 360 Degree 1080p Smart Video Conference Camera combines a 360° lens, eight omnidirectional echo-cancelling microphones, and a 360° speaker system. It can be used with several major web-based video conferencing platforms and is your video conferencing eyes and ears when connected to an in-room computer.
The Meeting Owl 3 single lens provides a full view of the room without any moving parts or image stitching. This USB device is designed to work with all major web-based video conferencing platforms. You don't have to download or install anything. Just plug it into your computer, and you're ready to use it. In addition, using Wi-Fi to connect your Meeting Owl 3 to the internet or your mobile device allows you to join the Smart Meeting Room ecosystem. Once connected to your mobile device, you can control the Meeting Owl 3 via a mobile app.
The Meeting Owl 3 output resolution is 1080p for sharp, clear panoramic 360° video, and it features an eight-microphone array that allows everyone within an 18' radius to be heard. Beam-forming technology adjusts focus to the person speaking, and noise and echo cancellation ensure you hear the important things and not the air conditioning.
Add an expansion microphone for larger microphone coverage or pair 2 x Owl 3 together to expand 2 systems as one for larger rooms. Also, you can have a combination of an Owl Bar and an Owl 3 for the most immersive experience. Does not include the expansion microphone or Owl Bar. Optional additional purchase is available for these items.
If you have a team spread out across multiple offices that need to attend the same meeting, each group can join the meeting in their own conference room via the Meeting Ow 3.

The Meeting Owl 3 is suitable for use in medium- and large-sized rooms up to 15 x 20 feet. The mic pickup range for the Meeting Owl 3 covers an 18-foot radius, and it features Smart Zooming capabilities to cover people sitting further away.
Pair 2 Meeting Owl 3 Together
Owl Connect pairs two Meeting Owl 3 together to support larger meeting rooms and classrooms and social distancing.

Zoom, Google Meet, Skype, Skype for Business, Microsoft Teams, Webex, GoToMeeting, BlueJeans, and virtually all other web-based video conference software.

The Meeting Owl 3 camera captures in 1080p and the 360° lens shows the entire room and automatically zooms in and focuses on the person speaking. If you choose, you can lock the view using the Meeting Owl mobile app to prevent the view from changing.
The 8 omnidirectional smart mics and 360° speaker makes sure you can hear everyone in the room up to 18' away from the device.
Connects via USB and combines video and audio to simplify your meeting setup.

The Meeting Owl 3 can be used when connected to a computer running the software platform of your choice. However, for your device to take advantage of the Owl Labs' Smart Meeting Room ecosystem, you must connect to the internet via Wi-Fi, either through your network or through your smartphone. The ecosystem allows your device to access significant enhancements such as keeping a record of the number of meetings, number of people in the room, and other information that Owl Labs reports back to you via the Meeting Owl mobile app. The Wi-Fi connection is also the method of getting software updates to your system.
Third-Party Audio Equipment Compatibility
Although you can use your own microphone and microphone extender cable with the Meeting Owl 3, it is not recommended that you add your own speakers. This is because the Meeting Owl 3 uses both visual and audio cues to determine where to select its main point of focus. If you use external speakers that would cause the device to point the focus of its video on the speakers and not on the person speaking. If you require more coverage rather use the included Owl Connect and wirelessly pair 2 x Meeting Owl 3 coverage.
Even better together (optional)
Pair the Owl Bar with the Meeting Owl 3 to capture all angles of the room and share the best view of in-room participants no matter where they're seated. Owl bar purchased separately.
Unboxing video:
Meeting Owl 3
Does the owl 3 have an onboard computer with MS Tams & Zoom?

No, the Meeting Owl 3 connects to any computer via a USB C connection with the cable supplied

How do we project the video playback onto the screen from a laptop?

connect the owl 3 to you laptop via usb and hdmi from laptop to screen

Does the meeting Owl 3 have HD 1080p or 4K Ultra HD?

1080p HD

Does the meeting owl 3 camera automatically check and follow the active speaker and zoom in?

Yes, autotrack and auto zoom

Can the meeting owl 3 handle expanded microphones?

Yes, 1 expanded microphone per single meeting owl 3

Can one here to meeting Owl 3 together as one large system?

Yes, pair 2 meeting owl 3 together wirelessly

Can the meeting owl 3 work with a video bar to create a 360 and video bar conferencing experience?

Yes, first to market vidoe bar and 360 via the Owl Bar & Meeting Owl 3 paired wirelessly together