Newline Q Series Interactive Whiteboard Display - Distributor
Newline Q Series

High-Performance Interactive Display Solution for Everyone.
Newline's Q Series answers the call for a more customised and fast-paced digital touch experience.
As your core technology solution for work or class, the touch display must always maintain the same pace of improvements. That's why the Q Series is your #1 solution to a highly customised and peak performing digital collaboration hub.
(Optional slot-in Newline 4K AI Auto Tracking Camera - click here)
Select Screen Size

Quantity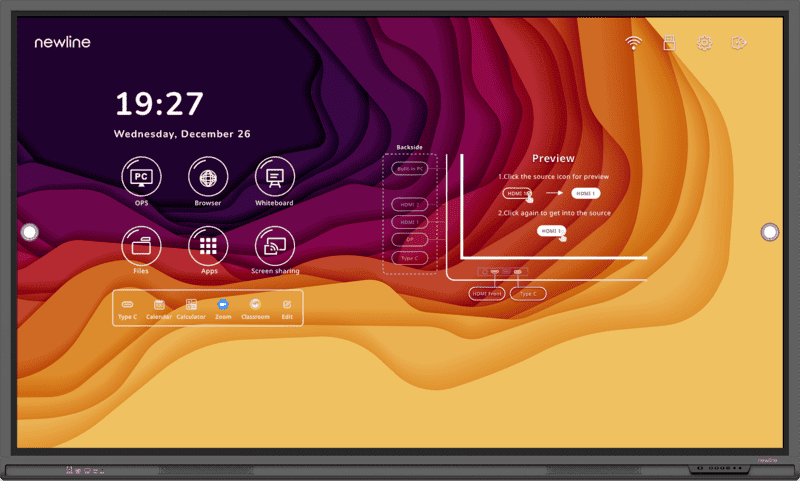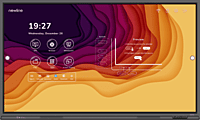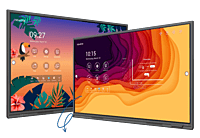 Newline Q Series Features:
USB Type-C with 65W Power
Antimicrobial Surface
Secure Android 11 OS with User Profiles
Newline App Store
Better Connectivity with Wi-Fi 6
Embedded 20W Speakers
Camera Module Capable (optional)
Compatible with all Devices
Step into your space and bypass the setup frustration. The mental checklist to grab the right cables, troubleshoot connectivity and hope everything else interacts well can be overwhelming. With plug & play USB-C, the entire setup process is streamlined to one cable and instant access. And it doesn't stop there! Audio, video and 65 watts of power are transferred too.
Powerful Android 11 OS
Faster performance has to come from somewhere. Welcome to Android 11! With a more secure on-board operating system, you can connect to familiar services like Google Drive and OneDrive with confidence. Your interactive display compatibility is important to cloud access of your favourite tools.
Newline App Store
Our curated app store features 100+ fully compatible tools for education and business. The library is constantly growing, but you can get started today with some of your favourite Education and Business apps. These run the gamut including favourites like the Google Suite, Starfall, Kahoot, AP News, Microsoft Office, Udemy, and more! Optional app disabling with Newline Display Management Plus is also available.
User Profiles
New to the Q Series, user profiles help eliminate the hassle of device and user switching. With user profiles, the home screen and settings are saved for individual users. Make the interactive experience more customised by creating profiles by individual, department, teacher vs. student, or display usage type. Setup a profile just for teacher access and all their apps. Create a profile for a team that exclusively uses certain tools. Customise the home screen for a profile dedicated to presentations only. The possibilities are infinite in making the experience as tailored as you need it to be.
Touch that Inspires & Protects
Interactivity truly brings collaboration to life. The ability to combine analog writing with digital tools makes communication all the more effective. With interactivity at the core of our product's development, we integrated tools that do not only make touch a "nice to have" feature, but a "must have" feature for daily interactions. Simply adding interactive functions to a display is the first step. The Q Series makes it relevant, intuitive, and safe for all.
Collaborative Software
Our latest innovation complements the strengths of our software. Better reach your audience and collaborate with ease on software built for you. Content sharing, device management, and time saving is a priority. For the complete ecosystem of Newline products, use these integrated tools for an efficient interactive experience.
Superior Connection
Newline's Q Series brings to you smart connectivity through diverse ports and wireless compatibility. The diversity in connection ports provide great options for all types of devices, making the interactive display more accessible to all users. Ports located on the front and the back of the panel make it easy to use the panel in any mounting situation. For those devices that need wireless connection, a reliable Wi-Fi 6 module provides dedicated wireless connectivity.
Upgradable Camera Module (Optional)
The Q Series features an optional, upgradable flexible 4K rfect video sharing experience, just add a mic of your choice to create an all in one collaboration solution.
A Peak Performing Digital Collaboration Hub
The Q Series brings efficiency and high performance to the classroom and your teams. Added security, more customisation, and faster performance is a recipe for success! With embedded collaborative tools and a variety of interface themes, Q Series help build a dynamic and engaging environment. The Q series offers the ability to connect those near and far and collaborate on one interactive canvas.