Kandao Meeting S - Distributor - 180° Video Conferencing Device
Kandao Introduces the Meeting S 180° All-in-One Intelligent Video Conferencing System
A 180° video conferencing solution which connect via USB or via HDMI output to a meeting room display or digital whiteboard, the Kandao Meeting Pro can be connected to an online meeting without being plugged into a computer. In this mode, it can be connected to the web over your choice of Wi-Fi or Ethernet, and you can plug in peripherals such as a mouse or keyboard to a USB port. Alternatively, you can plug the camera into your laptop over a USB connection for a more traditional setup. The Meeting Pro provides an immersive 180° camera, an omnidirectional microphone with an 5m pickup range, and full-duplex speakerphones with noise and echo cancellation, all in a single unit that can turn virtually any space into a meeting room for small size meetings.
Pair up to 4 x Kandao Meeting S via Kandao Omni by adding a NUC/Computer/Laptop and Gigabit Router. Kandao Omni software is free. Enquire for more info
Includes all these great features in one single device:
180° Auto speaker tracking and framing HD camera

8 x high-quality omni-directional microphones 5-metre range in 180°

Hi-Fi Speaker

Onboard computer with MS Teams, Zoom, Google meet, Webex and more

No PC required

USB mode if desired

Wireless presentation via Airplay or Miracast

Onboard recording for offline sessions like hearings, training, interviews etc via SD card slot

LAN & Wifi connection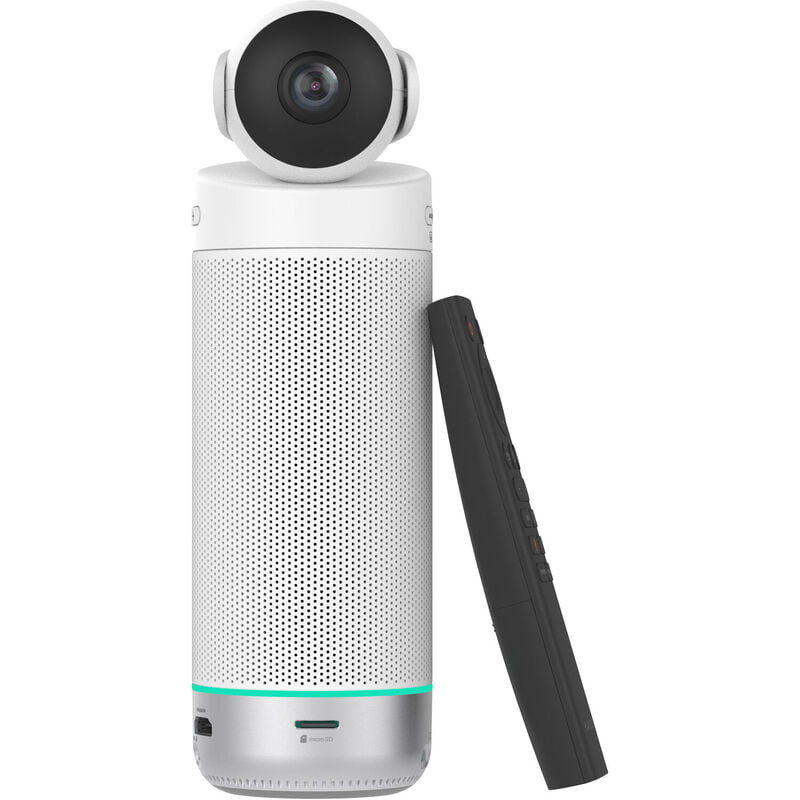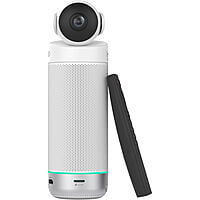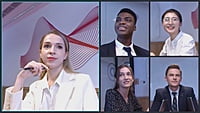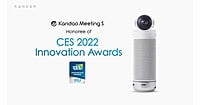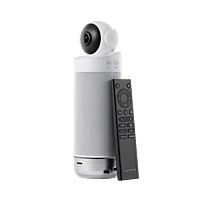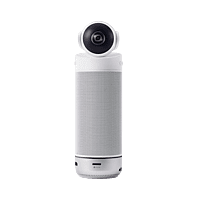 Standalone Web Conference Camera

Capture up to 1920 x 1080p Video

Built-In Speaker, 8 x Microphones

HDMI and USB Type-C Video Output

Wi-Fi and Wired Network Connectivity

Bluetooth and microSD Card Support

LED Status Ring, MJPEG/H.264 Encoding

Remote Control Included
Kandao Meeting S. The Meeting S web conference camera can output up to 1080p video over HDMI, Wi-Fi, or a USB host connection and can be used with a variety of popular conferencing apps such as Webex, GoToMeeting, Slack, Zoom, or Microsoft Teams.
The standalone camera features an ultra-wide fisheye lens with a 180° field of view to cover the entire room from one side. Its base features a large 5W speaker and eight omnidirectional microphones that can pick up audio from up to 16.4' away. On the bottom is a status light ring that shows the status of the connection.
The Meeting S features the advanced Kandao Meeting AI 3.0 algorithm that can be used in one of three modes: Discussion mode highlights each speaker around the room and highlights them when they talk, Presentation mode dynamically shifts the camera's focus to the person who is speaking, and Global mode, which captures the whole room with both cameras.
The Meeting S can connect directly to a display using its HDMI output, and it can also connect to the internet for communication with a conferencing site using its Ethernet or Wi-Fi connection. You can control the unit using the included remote control, or you can connect a keyboard and/or mouse using its USB Type-A input. It can also be controlled and powered by a USB Type-C cable connected to a Mac or Windows host computer.
Ultra-Wide 180° Standalone Video Conference Camera

Integration of professional 180° video, full-duplex audio system with eight-microphone array and Hi-Fi speaker, and Kandao Meeting AI 3.0 algorithm, Kandao Meeting S provides an efficient experience for hybrid meetings.

Standalone Mode - A New Level of Hybrid Meeting

Video conferencing is more important than ever these days. It has become an indispensable way of efficient work and interpersonal communication. Kandao Meeting S has a standalone mode, allowing you to set up a meeting with one machine.

Focus on Things that Matter

With advanced Kandao Meeting AI 3.0 algorithm, Kandao Meeting S can intelligently detect and track the active speaker. It offers flexible discussion modes, such as ultra-wide for a full room, single person, two attendees, and multiple attendees for different meeting scenarios.

180° Ultra-Wide View, Covers the Whole Room

Kandao Meeting S is equipped with a 195° ultra-wide camera covering a 180° wide-angle view. Participants don't need to squeeze together, so no one will be left out. Light and color optimization shows the best of you in different meeting spaces.
Provides view-lock and zoom functions for optimal collaboration.
Full-Duplex Audio System Output Clearer, Sound Better
Based on its full-duplex design, everyone can contribute to the conversation in real time. Eight professional-grade microphones and intelligent algorithms achieve accurate beamforming, noise reduction, and echo cancellation.
The Meeting S features eight microphones and a 5W Hi-Fi speaker to fill the meeting room with premium, clear sound.
Supports Major Video Conferencing Platforms
The Meeting S supports major platforms such as Teams, Zoom, Skype, Google Meet, BlueJeans, GoToMeeting, Slack, Polycom, Cisco, and DingTalk.